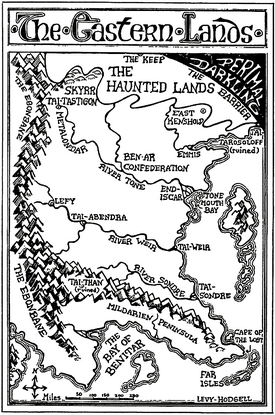 How near the Ebonbane seemed now that night had fallen. The range loomed over her, an immense presence filling half the sky, blotting out the stars.
– Jame's narration, God Stalk, Book I: Tatters of Dusk, "Chapter 1: Out of the Haunted Lands"
The Ebonbane are a very large north-south mountain range separating the Eastern Lands from the Central Lands of Rathillien.[1][2] The only known pass through the mountains is the Blue Pass,[3] between Mount Tinnabin and Mount Timor, near Tai-tastigon. In the north, the mountains join the Snowthorns,[4] and in the south, they stretch down the Mildarien Peninsula.[3] The Anarchies are foothills of the Ebonbane.[5] The Ebonbane is not part of the mountains of Nekrien.
There are evergreen forests in the Ebonbane,[6] though much of the mountains lie above timberline.[7]
References
Edit