This article is about the geographic region. For the battle Ganth Highlord lead against the Seven Kings, see Battle of the White Hills.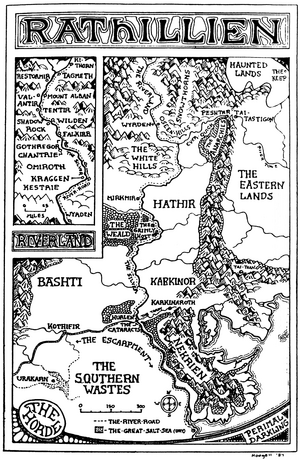 At this season, the hills were green and yellow rather than white, and the sky was a clear, eye-aching blue. Tall, coarse grass waved on the summits. Below, the hollows bristled with a kind of brier that grows tinder dry in the fall but no less sharp of thorn. Laced through the barbed branches were white flowers, which looked quite pretty from a distance, but, at closer range, resembled tiny, deformed skulls. At dusk, a billion crickets sang and mist gathered in the hollows.
– Torisen's narration, Dark of the Moon,
"Chapter 10: The Lurking Past"
The White Hills are a hilly region south of the Riverland on the Western bank of the River Silver. They were the site of the Battle of the White Hills, where Ganth led the Kencyrath against the Seven Kings of Bashti, whose armies included many Kencyr mercenaries.
References
Edit